The Unclear Future of the UFC Welterweight Division
Just a friendly reminder incase you forgot: there's a huge fight happening this weekend in the UFC welterweight division between Rory MacDonald and Tyron Woodley. It's forgivable if you forgot. Sometimes it feels like every fight card has a marquee matchup in the welterweight division, and this isn't a product of misleading promotional practice; it's just that, in layman's terms, the division is freakin' stacked.
Remember when that Canadian guy Georges "Rush" St-Pierre had a stranglehold on the division, and had mopped the floor with pretty much any contender that came his way? You know, that champ from way back who could be argued is the best if not second best to ever compete in the sport? Seriously, whether you were a fan of GSP's grind 'em out for 25 minutes style, you couldn't knock how his methodology neutralized almost every monster that he faced as champion for almost six years. Hall of famers, champions, former champions, strikers, grapplers, you name it; he beat them all.
Remember that? Well the glorious reign (or dry-humping dictatorship depending on personal opinion) only ended six months ago when he gave his indefinite "Peace, I'm out. You can have the belt, just keep it warm for me if I come back," which by the way, fan of GSP or not, you have to admit that was totally badass.
It was safe to go outside. There was no more need to be scared, homie. Everywhere you looked there was a new welterweight contender who not only had the talent, but the record to justify a title shot. Before, all the dialogue would have been the same as it had always been:
Analyst 1: What do you think about the matchup?
Analyst 2: Well, I expect Georges St-Pierre to do what he does best, and win the decision.
Analyst 1: I, too, like GSP to win.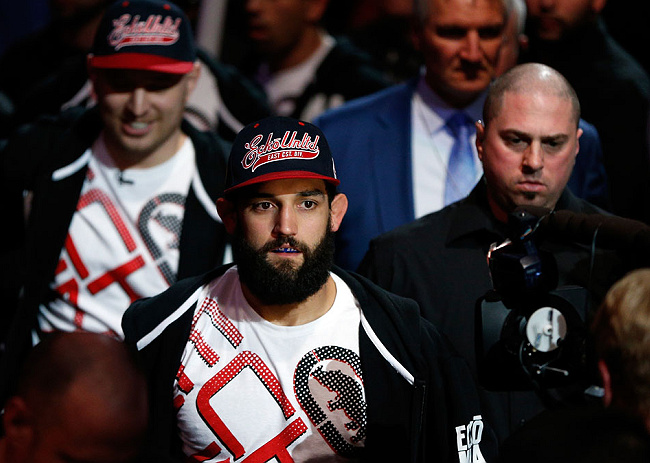 The "Rush" days were over. Johny Hendricks was now the new champion. In a fight for the vacant title, he bested a revived Robbie Lawler in an extremely close decision that came down to the final minutes. There was no question that Hendricks was top dog; he'd won the title fair and square against Lawler, and before that he'd put a whoopin' on GSP, who somehow won the controversial decision.
Yet at the same time, Hendricks presents his fair share of question marks. He without a doubt has the skills to win: two-time NCAA Division I wrestling champ with a punch that makes people go night nights. The question, is can he utilize those for six years before people start to figure him out? It's a daunting task.
As long as he keeps winning, he'll surely be the favorite in the fight, but fans' imaginations will surely come up with ways he can lose besides that hackneyed puncher's chance. Think about GSP vs. Dan Hardy. With all due respect to the Englishman, did anyone really expect Hardy to win (note: I didn't write want, I wrote expect)? Indeed, Johny Hendricks has a long road ahead of him if he wants to ever be considered that level of greatness.
One problem though. Right now he's injured, and the welterweight division is insanity. All the champion can do right now is sit back, heal up his torn bicep, and watch the challengers line up. Just over this summer alone, there are three huge fights, all with title implications. Out of all this disarray, a true contender will emerge who has not only proven himself worthy of the shot, but has been defeating the beasts in the division, while the champion had to stay inactive the whole time.
You have Tyron Woodley vs. Rory MacDonald this weekend, which was supposed to be the number one contender bout. It made sense. Both fighters had beat many elite names.
Then all of a sudden you had Robbie Lawler vs. Matt Brown as the title eliminator, touted as the most exciting matchups of matchups. Even besides that fact, it made perfect sense: Lawler had almost become the champ, and wanted a rematch. Matt Brown had won seven straight.
There was also Hector Lombard vs. Dong Hyun Kim in late-August. Less buzz surrounding this one, but Lombard is a former Olympic judoka, and Kim has been knocking people out.
Throw in a Carlos Condit after he recovers from an ACL tear, Thiago Alves making a comeback, Demian Maia trying to strangle people, and somewhere in California Nick Diaz is waiting for a big paycheck so he can comeback and Stockton Slap some fools. There you have it: a nice mélange of confusion, excitement, and anticipation.
And, oh yeah, remember that guy named Georges St-Pierre who had a stranglehold on the division? He could always come back.
Check out this related story: